20th anniversary of the Gaash Group's activity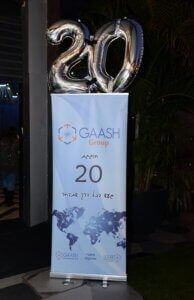 With over 20 years of experience in eCommerce logistics, import / export services, international shipping and cargo insurance;
Gaash Group celebrates 20 years in which it leads the supply chain industry in the field of electronic logistics in Israel; Beyond meeting the highest standards, Gaash strives to provide its customers with the best customized service.
For the past two decades, the group has advanced its vision to lead the industry and expand the company's operations in additional markets around the globe.
The group has set itself the goal of producing added value according to customer requirements and thus streamlining the service and operation process.
Gaash Worldwide has a large courier warehouse at the cargo terminal of Ben-Gurion Airport, which makes it the largest company in Israel that provides logistics solutions in the world of digital commerce, both in importing and exporting products to and from Israel.
Among the logistics services for eCommerce shipments provided by Gaash can be found air transportation from / to Israel, release of packages from customs, and a Last Mile solution – distribution of packages in a variety of methods in Israel.
The company offers online commerce customers all domestic means of distribution, home delivery, distribution points, lockers and more.
The company customizes the service for its customers and manages to do so through advanced technology and a high quality of human resource.
Gaash Worldwide provides services at different levels of SLA on demand, from distribution from the next day to distribution of up to 4 days.
As part of the company's commitment to maintaining a short and efficient range of delivery days, the company measures service delivery on a weekly and monthly basis.
Gaash has a service contract with the world's leading eCommerce companies such as eBay, Asos, Aliexpress, SHEIN;
Gaash uses a number of service providers to monitor and control the distribution service and thanks to this the company meets a fixed and stable SLA even during the busiest periods.
On the 20th anniversary of the Gaash Group's activity, it was decided to expand the global field of activity, which includes additional services, including quality control of the returned products while developing a unique return service tailored to the customer's needs.
Gaash realized that it was necessary to create a shell that would satisfy the needs of its partners and therefore Gaash decided to develop return services designed to facilitate both the seller and the buyer and thus create a supportive body that creates trust between the two parties.
With the face forward
Gaash's vision is to be a leading logistics company for eCommerce customers in Israel, through excellence in service and addressing the logistics needs of our customers, while meeting a short SLA and costs appropriate to the industry.
The company manages to lead the industry thanks to advanced technology, construction of monitoring and control systems and a quality and professional human capital resource.